Central Park 98 (Houten Schoen)
With Central Park 98 Intrabouw, project developer from the region Waasland, has again reached their goal to realize attractive energy-efficient  new buildings. These park residencies, nicknamed Houten Schoen, with 31 luxurious apartments, was completely integrated in the environment of green pastures, a magnificent lake, and a nature reserve.
Stefaan Maes (Intrabouw) observes: « Also with this project and its modern design architecture, we go beyond the current insulation and energy laws. These are BEN (almost energy neutral) apartments with an E-level of 28. »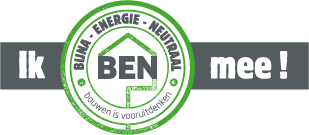 Also the selection of the smart living techniques of IPBuilding contribute to these energy-efficient apartments.
Intrabouw Sint-Niklaas
Intrabouw Lifestyle Buildings is a property developer from the Waasland region and is known for its progressive and contemporary projects. Every year, Intrabouw completes 50 to 60 attractive new homes and apartments, focusing on architecture, lay-out in the environment, as well as the comfort and interior decoration of the home.  The construction projects follow the Nearly Zero Energy principle which involves Intrabouw using the best materials and technologies.
The Intrabouw team recently moved to a new base of operations, along the Parklaan in Sint-Niklaas. The construction project, consisting of new apartments and offices, was entirely built using Smart building technology, in collaboration with IPBuilding.
Felix Brouwershof Residence
The Felix Brouwershof Residence is situated in the heart of the Antwerp borough of Onze-Lieve-Vrouw-Waver.
Project developer Cornerstones built a healthcare campus there with a Service Centre and 69 certified, smart, assisted living flats with all mod cons. All flats – which have been in use since April 2017 – have a fully equipped kitchen, a spacious bathroom with walk-in shower, a living room with natural light and 1 bedroom. In terms of safety, no expenses were spared. In this residence, IPBuilding, together with Nextel, implemented a Smart Care – Smart Assisted Living solution.
Interior designer Projectatelier
In Kasterlee, the total office designer Projectatelier and its Office Lab not only delivered a sample of its own creative and other capabilities, it also created an atmospheric environment that stimulates its own employees and convinces customers coming in for a visit.
On behalf of Projectatelier, IPBuilding built a veritable Smart Building with a maximum of features and a minimum of push buttons. When employees use their badge to open the door in the morning, the building immediately knows who has arrived. The lighting, temperature, etc. in this person's office can be immediately and automatically adapted to the employee's desires.
Chris Huybrechts, who founded the interior design company ten years ago together with Peter Monden, not only created an office space, but also a true experience centre that combines the science of interior design with real-life experience. This shows how an interior décor can motivate employees, engage with them and ensure that they feel good.
Atmosphere is central
Projectatelier built the 2,000 m² Office Lab for builders, architects and interior designers who are looking for the interior identity that fits their organisation or clients. Much of the concept is scientifically based, another part is appreciated and subjectively evaluated by the perception of the visitors and users. The showroom is divided into five atmosphere zones, so that visitors can discover the style and taste that best suits their organisations.
Every atmosphere comes with its own colours, smells, materials, lighting and music. The office furniture is a part of the interior.
Future-oriented
The Office space is a showcase for the work environment of the future: every bench table has its own little garden, the personal lockers are also mood boards, bean bags have replaced dull conference chairs, the brainstorming area is a courtyard garden with a Scandinavian moss wall. Every 'flex table' has its own outside bay window enabling staff to work outdoors. Practical information is exchanged wireless via the internet; heating, cooling, light and sound are controlled with your smartphone. IPBuilding was called in to make this a reality.
Assisted Living at Residence De Linden
Assisted-living flats De Linden are located in the heart of the Antwerp municipality of Kapellen. The people behind this initiative, psychologist Yo Buyens and architect Pieter Goffin, built 17 flats there, with a surface area ranging from 67 m² to 111 m². IPBuilding created smart assisted living homes whose technology adapts to the residents' needs and requirements.
Yo Buyens: "This is our first project in the healthcare industry. Before shaping our concept, we visited many other projects. We always kept in mind the idea: "How do we really want to live when we are 70 or 80 years old or even older."
Safety, freedom, respect, social engagement, accessibility and service are paramount. It goes without saying that the assisted living housing is fully wheelchair-accessible. All facilities to provide appropriate care, if necessary, are present but not visible. In this way, we promote the dignity and privacy of our residents.
Contact us
If you have any questions or suggestions, you can contact us using the contact form below. We will respond to you as soon as possible.