Plenus Vitae: Artenys develops a new living concept with Smart Living technology of IPBuilding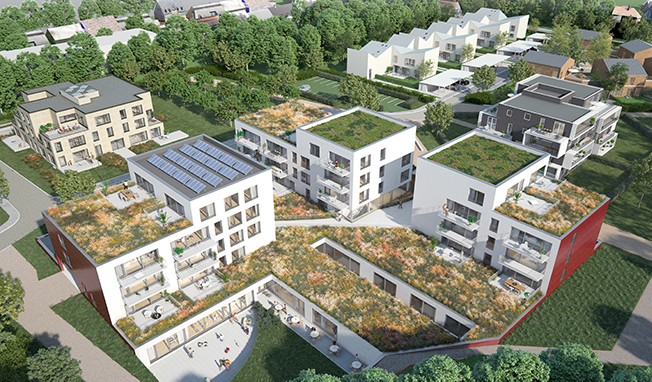 The project developer Artenys from Ghent focuses on the development of residential estates in the suburbs. The inhabitants and their living quality is at the heart of their research along with the execution. The residential estate Bergbos is a nice example, which is in full progress in Merelbeke.
Paul Van Audenhove (Artenys): "At the residential estate Bergbos we chose for different living units, with a mixture of spacious "urban villa" apartments, apartments for starter homes, etc. On top of that we also established a care concept with distinct solutions called "Plenus Vitae'.
Plenus Vitae, or 'full of life' , is an intentionally chosen concept that will foresee a permanently present park manager or concierge at the estate on top of accessible and modern technology. It goes without saying that all apartments are organised for life-long living to offer not only services but also appropriate care whenever required.
Life-long living
Artenys scouted for an innovative partner to comply with the technological aspect of this unique story and also found this at IPBuilding. IPBuilding conceived several smart buildings at the site, together with the integrator Nextel, with smart apartments that can adapt technologically according to the needs and requirements of each individual inhabitant. Obviously this is available at the care center, but also in the other units to ensure that the inhabitants can rely on a real life-long residence, which could be linked digitally to the care center and its accompanying services now or in the future.
Inhabitants of the smart apartments can make use of a central touchscreen on which all techniques in the apartment can be managed. It allows the inhabitant to control lighting, heating, sun screens… Additionally they have an innovative emergency call system that functions in the whole building, wherever they are. Access to the site and the individual apartment does not have to mean you need your (standard) doorkeys. Inhabitants can instead use a badge, user-friendly and extremely secure.
The assistance by the on-site park manager is supplemented by a digital service pack. Artenys relies on the Digitale Woonassistent for this. The software of Digitale Woonassistent is also accessible via the touchscreens at hand in the apartments. This guarantees a constant attainable assistance. This new approach ensures that excellent living conditions and services go hand in hand. This innovative concept with care/services on demand and a park manager allows us to answer the real needs of inhabitants at a significantly lower price (up to 60%) in comparison to the classically certified service residences.
Together with integrator Nextel, IPBuilding created smart living units at the residential estate Bergbos in which inhabitants can manage all techniques at the apartment via one integrated touch screen. Techniques such as lighting, video, atmospheres, scenario's, ALL OFF function, heating, steered sun screens, etc. IPBuilding also integrated an extremely secure badge access system to replace the classical doorkeys.
"The apartments at the care center will of course be equipped with our innovative emergency call system. Important to know: the living units that are not located within the care center can nevertheless also be equipped now or in the future with the same system. So, we can conclude that this is a real life-long living concept."
Would you like to know more about our smart care solutions? Feel free to contact us via sales@ipbuilding.com or 09/279 89 69.