Smart Assisted Living
Over the past few years, IPBuilding's Smart Building solutions have found their way to sites for life-long living, residential care homes, assisted living housing and others. The intelligent combination of many technologies and devices, together with an extremely intelligent emergency call system, provide benefits for residents, families and the building manager.
Scroll Down
Smart Building for all types of care
Today, IPBuilding provides care settings with a hyper intelligent emergency call system, combined with integrated living and residential automation. This is a unique concept designed to boost the independence of residents and an actively contributing to their quality of life.
Future proof
Residents' physical and psychological capabilities change over time. Therefore, the living environment should also change and adapt to the resident's needs and requirements. IPBuilding provides you with a future-proof living environment that can easily be adjusted.
Smart Assisted Living
More and more developers are opting for Smart Assisted Living, where Smart Living apartments can be upgraded with an intelligent emergency call system that contacts a family member, a healthcare organization or a dispatcher.
Featured Smart Assisted Living project
Assisted Living at Residence De Linden
Psychologist Yo Buyens and architect Pieter Goffin built 17 assisted living flats in Kapellen, with a surface area ranging from 67 m² to 111 m². IPBuilding created smart assisted living homes whose technology adapts to the residents' needs and requirements.
Read more
Contact us to assist you with your care project
Contact us
If you have any questions or suggestions, you can contact us using the contact form below. We will respond to you as soon as possible.
Energy management
IPBuilding enables you to fully monitor your energy consumption resulting in a lower energy bill.
You can integrate your heating, ventilation and air conditioning systems and set them up in a very user friendly manner, per room or depending on whether anyone is in the room. By using motion sensors in combination with light and time-based controls, the lighting will only be switched on as long as it is necessary. Use of the sunscreens is optimised, controllable electrical outlets can eliminate standby consumption and the "switch everything off", "night" or "absent" push buttons will ensure that your house or building does not consume anything more than what is necessary for your comfort.
With a single touch of your touchscreen, smartphone, tablet or PC you can review the current energy consumption and the history per day, month or year (for electricity, gas and water). You can view total consumption as well as individual consumption. This allows for efficient management and enables you to use energy more efficiently.
As a result, you can:
Calculate your future consumption
Map your current consumption (major sources of energy consumption, such as a heat pump, ventilation, washing machine, freezer, etc.)
Monitor and reduce standby consumption
The following items are measured:
Total consumption of GAS, WATER and ELECTRICITY via pulse counters
The energy consumption of 4 specific loops, with devices that consume a lot of electricity (max. 20A): hob, washing machine, dryer and microwave
Theoretical calculation of the energy consumption of all connected outlets
Energy dashboard displaying:

Electricity consumption per user in € and kWh
Water consumption
Gas consumption (if applicable)
Graphs showing the consumption (total/per user) for a specific time period
ICE Call emergency call system
"Immediately contact healthcare providers in case of emergency"
In a care setting or assisted living home, having an intelligent emergency call system is vital. IPBuilding's ICE Call emergency call system is the most complete emergency call system on the market.
When pressing the button (integrated on the touch screen or via the wireless wristband or necklace or wireless red button), a digital connection is established, enabling you to speak with and listen to an authorised healthcare provider. This healthcare provider or dispatcher also immediately knows from where in the building the call was placed.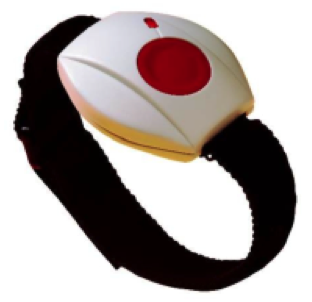 In addition, the smart assisted living home will also:
Switch on all of the lighting
Turn off the stove
Switch off the TV (to ensure optimum communication with the remote person)
Possibly raise the screens
Increase the underfloor heating
Not stigmatising
Users do have need for the alarm feature, but they do not want to have a stigmatising product in the house. Therefore, IPBuilding integrated the red button on the touch screen, thus eliminating the need for an old-fashioned white/red call system on the wall.
Accessible anywhere
Call phones can also be located outside of the homes (common areas, corridors, bathrooms, cellar, etc.) of the building, enabling wireless calls from residents to be routed to the healthcare provider from anywhere in the building.
Speech ánd Image = videophones
If the assisted living home is equipped with the video monitoring package (7.2), with integrated IP cameras, live images are immediately sent to the healthcare provider when a call is placed.
Life-long housing
The ICE Call emergency call system can always be added to an existing Smart Living house or apartment. That way, residents have a home they can enjoy for the rest of their lives.
Zone heating
"Extra comfort and especially energy-saving"
IPBuilding ensures comfort and efficient energy management. One example is the integrated zone heating system where smart temperature sensors in the living room, bedroom and bathroom are connected to the UTP Cat 6 bus wiring. These sensors continuously measure the temperature in these rooms. The sensors are incorporated into the standard switches. The easy-to-use weekly program can be used to program the desired comfortable temperature per day and at certain times. The desired temperatures need to be set once per space, but can be changed at any time.
The temperatures are also automatically adjusted depending on whether there is someone in the room, and taking into account day and night times. For example, a "Boost" temperature increase to 22 °C can easily be activated for 60 minutes using the central touchscreen.
The heating can also be operated remotely by the resident. This is useful if you return after a holiday period or come home sooner than expected. Family members and healthcare providers can also change the settings remotely if the resident is no longer able to do so.

Care and services platforms
"Integration with care and service platforms"
The touch screen also enables links to be created with care and/or services platforms. Third-party applications will be shown directly on the touch screen, and residents, healthcare providers or family members can use this software straight away.
Today Cubigo, Digitale Woonassistent, Care Solutions and Smart Assist can be integrated on the touch screen. Upon request, other applications can also be integrated.
Home automation
In an intelligent home, the various systems (lighting, heating, electrical devices, etc.) are linked together and communicate with each other. This gives residents a greater sense of comfort. For example, when sitting in your car, with a single action, you can open the garage door using the remote control, turn on a lighting that leads from the garage up to the entrance, switch the heating to comfort mode and switch on the lights in the living room. Or, you can operate the electric blinds and adjust the dimmable ambient light, while at the same time switching off unnecessary devices from the comfort of your couch. Access control allows you to determine who is able to enter and at what times (family, staff, cleaning lady, home help, etc.).
Unlike for many other intelligent systems, IPBuilding believes that comfort includes ensuring that the software is extremely easy to use. Creating an atmosphere or assigning a function to a push button is child's play. The newly-created atmosphere will also be displayed on the smartphone or tablet app immediately and automatically.
Active sunscreens
"Light and heat from the sun according to your own wishes"
By using climate sensors and timers, all electric sunscreens (blinds, curtains, screens) will independently and automatically be raised or lowered, based on the climate outside and inside, the position of the sun and the time setting.
Using push buttons or the central touch screen, residents can determine the position of the screens at all times. If the weather conditions are bad, the screens are automatically raised, to avoid damage.
One weather station is installed per site. All assisted-living homes are connected to the local weather station. Each assisted-living home is fitted with a central touch screen. The current weather and weather forecasts can be consulted.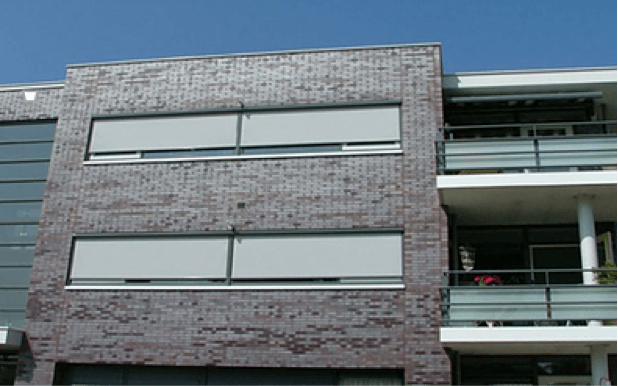 Camera surveillance
Both fire protection and burglary alarms can be perfectly integrated to provide optimum security. For example, the smoke detectors can be connected to the electric shutters, so that they can be raised in case of a fire, and at the same time a string of lights can be turned on, to show you the way out, while the alarm sounds through the audio speakers; all unnecessary electrical devices can also immediately be shut off and the gas valve can be closed automatically.
In case of a burglary, all the lights inside and outside can be switched on, loud music will start playing, and the burglar will be filmed via the IP cameras.
You can use the videophone to communicate with visitors and decide whether or not to allow them in. When you are on holiday, you can give your home the appearance of being occupied, for example, by lowering and raising the blinds every day and switching the lighting on and off in certain rooms. IPBuilding enables you to customise the safety of your property according to your needs and desires.
Access control
"One badge only instead of many keys"
Access control is indispensable, both in individual homes and in a building (care setting, apartment building, office building). IPBuilding links a badge reader to the IPBuilding user platform. This enables you, as an administrator, or resident to determine the rights for each badge (e.g. cleaning service or family members only get access at certain times, etc.). The badge reader can be built into the videophone system or operate as a stand-alone device.
In addition to providing access, the badge can also be used to activate the "person present atmosphere". This will cause the lights to come on, the heating to be set to comfort, ventilation to Healthy and possibly also activating the audio system and setting it to your favourite station at the appropriate sound level.
​The badges can also be used to open the main entrance door, as well as other doors inside the building such as a cafeteria, wellness facilities, car park, shared bicycle shed, etc.
If desired, you can also get notifications when people use their badge. The building management software allows for time schedules to be created, people to be added to or removed from the list, etc. When a badge is lost, it can be deactivated immediately in the user software. You can also consult the history of who gained access when, within specific time intervals.