FOCUS ARCHI, the reference magazine for architects, focuses on Smart Living
FocusArchi is the reference magazine for architects. Editor Pascal Dewulf spoke with Kris Pensaert (Managing Partner IPBuilding) about future-proof building and the super fast evolution of smart living.
You cannot miss it: houses, apartments, company buildings, … only get smarter and more interactive thanks to open source (home automation)systems compatible with a variety of techniques and applliances. The future is smart living: smart houses in combination with the Internet Of Things and home automation systems with open, IPbased communication standards.
Super fast evolution
We are experiencing a superfast evolution in open home automation systems, that much is clear. Kris Pensaert, Managing Partner of IPBuilding, foresees a golden future for this kind of open systems. Kris Pensaert: «Let's consider a simple example such as a light bulb. Two decades ago a light bulb of 100Watt was commonplace. Then followed the halogen lighting and 50Watt became customary. Next came the energy saving lamp of 25Watt, superseded by LED lighting of 10Watt. Now we have powerLEDs of 1Watt. To use this 1Watt powerLED, you do not need copper cabling as is still the standard for electrical installations in about 80% of new constructions. A 230Volt connection which is still the standard today, will be less essential in future as we are increasingly evolving towards low voltage of 12 and 24Volt. Just check which appliances are low voltage and connected to a power outlet via an adapter: tablet, smart phone, laptop, digital recorder, lighting, … »
«In the future an electrician will have to work closely together with a computer specialist to install the cabling of a house.» Kris Pensaert, Managing Partner lPBuilding
Light versie
A light version of the contemporary, heavy cabled electrical cabinets is therefore an obvious option. Kris Pensaert: «Philips launched a series of lighting elements that can be cabled through UTP. This UTP lighting does not rely on a traditional electricity network, but works via Power-over-Ethernet (PoE). This is the same cable that controls the computer data of for example a smart lamp, and on top of that also controls the power.
It is evident that smart elements are no longer controlled via a light button, but via an app on a tablet, smart phone or laptop. We can therefore observe a systematic move from electrical installations to ICT installations. This brings us to the home automation system with an open platform. Why wouldn't your home automation system not communicate directly with all automated "connected" appliances or techniques in your house? The architects have an important informative role towards the construction managers to inform them of this kind of open home automation systems for which the total cost of ownership will be considerably lower than closed one-brand home automation systems.»
AVS broadcasts project Wings (Fenixco)
Projectontwikkelaar Fenixco developed 2 buildings with environmental respect, that were constructed according to the existing building of the Poolse-Wing avenue in Sint-Denijs-Westrem. The building on the left has 16 apartments and 2 penthouses. The other consists of 8 apartments and 1 penthouse.
Together with Fenixco, IPBuilding made a smart living model apartment at the ground floor. Techniques and functionalities are fully linked in this apartment. Atmospheres, scenarios, screens, lighting, heating and multi-room audio are seamlessly integrated via 1 touch screen. It is also very easy to manage these functions via a tablet and/or smartphone.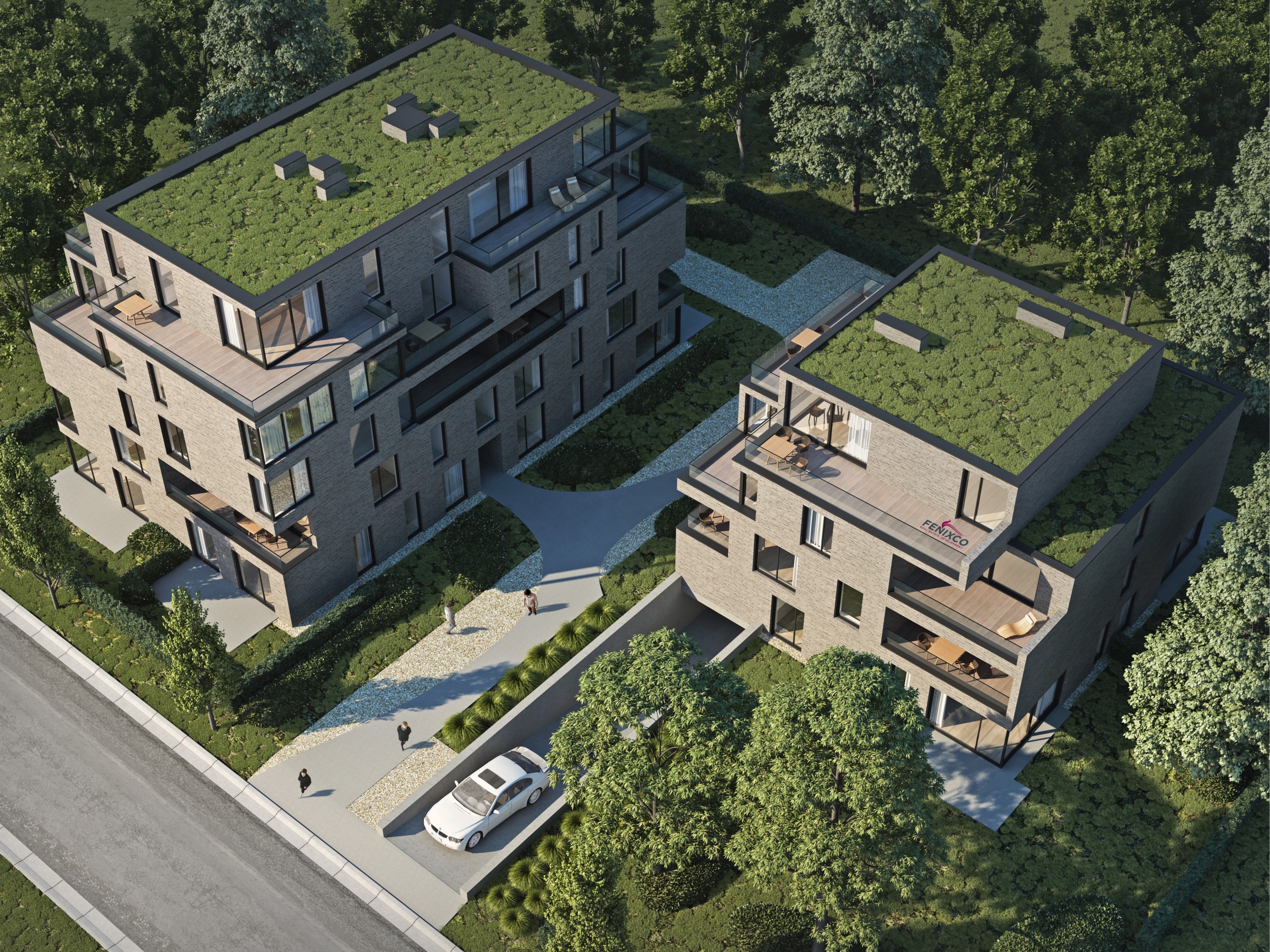 Additionally IPBuilding also conceivd an apartment that can comply with the future occupant's needs and desires on a technological level. This smart living apartment evolves  into a real smart assisted living environment with the innovative ICECALL-system.
On 28th August, the East-Flemish regional TV channel AVS will broadcast a new episode of its series 'zomergrillen' (summer quirks). In this part they highlight a visit to the residence Wings and you can get to know Fenixco and IPBuilding.
Would you like a discretionary visit to this model apartment? Just contact us via sales@ipbuilding.com or via 09 279 89 69.
IPBuilding at the ISE Smart Building Conference
On Monday 5 February, IPBuilding was invited by the Conference Organisers of the ISE Smart Building Conference in Amsterdam. The Conference precedes the expo Integrated Systems Europe 2018. This fair brings together more than 1,200 exhibitors and 70,000 visitors.
This year's topic was: "From Smart Building to Smart City." This topic was discussed by more than 30 of the world's leading experts in the field of Smart Technology.
IPBuilding was present too. The conference organizers rightly also focused on the needs and requirements of the elderly. IPBuilding's presentation was entitled "Convergence to Smart Assisted Living Solutions" and was about life-long housing and the role that technology can play. Following an introduction by Arthur Baanders, Michael Van Buggenhout (Care Business Development Manager at IPBuilding) expanded on this topic. IPBuilding's Smart Assisted Living Solutions garnered a lot of attention.
The presentation ended with a brief presentation of IPBuilding's tailor-made solutions:
Are you interested in lifelong solutions from IPBuilding? Feel free to contact us via sales@ipbuilding.com or call directly on +32 (0)9/279 89 69.
Contact us
If you have any questions or suggestions, you can contact us using the contact form below. We will respond to you as soon as possible.